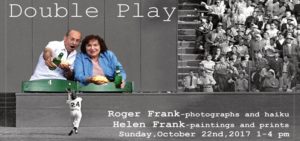 Westwood Gallery is pleased to present Double Play, photographs by Roger Frank and original paintings and prints by Helen Frank in an exhibit focusing on the Art of Baseball, our national pastime. An opening reception with the artists will be held Sunday, October 22nd from 1 to 4 PM. The show features the premier of Crumbs in the Outfield, by Roger Frank, a collection of photographs, baseball haikus, memories and reflections, as well as prints from More Helen's Tales, the second book of Helen's art, inspirations, and stories. Both books will be available for purchase through the gallery. The gallery is open to the public and the exhibit will continue through December 22nd, 2017. Westwood Gallery is located at 10 Westwood Avenue and is open 10-6 Tuesday thru Saturday and 10-5 on Mondays. For more information call 201 666 1800 or visit online at westwoodartgallery.com.
Roger Frank is a baseball haiku writer and photographer who received his BFA from the University of Delaware. His photographs are in the permanent collection of The Bibliothèque Nationale de France. He has exhibited at The Delaware Art Museum, Provincetown Art Museums and Kazakhstan Museum of Art, Pavlodar, Russia.
Mr. Franks photographs capture the universal in Baseball. His abstract compositions reduce the game to its essentials, catch, throw, hit and run, while encompassing all the nuances – the unique shape of each field and stadium, the smell of fresh cut grass, the changing light from afternoon shadows to twilight, all from the perspective of the fans who watch the game from seats shared through generations.
These are not Sports Illustrated photos which freeze the split second contact of bat and ball, rather, they tell the story of a game played over nine innings, four seasons, from generation to generation, and relived in our hearts and memories.
Using a proprietary technique, his photos are printed on watercolor paper with archival inks that give the effect of paintings. They capture the archetypal and timeless aspects of Baseball in a similar way that the movie, Field of Dreams, used the game as metaphor. It is very fertile ground.
As a game whose rules set no time limits, it is truly timeless. It has its own seasons which mimic those of nature. To paraphrase A. Bartlett Giamatti, Baseball begins in the Spring, when everything else begins again, it blossoms in the Summer, filling afternoons and evenings, and when the chill rain comes, ends with the falling leaves and waning light. While nature is dormant in the winter, Baseball is preparing once again for its spring awakening.
Baseball has been America's pastime for 171 years. As America and the world have gone through all forms of social and economic upheaval, the one constant through all those years has been baseball. For those three magical hours, it reminds us of all that was once good and could be again.
Helen Frank is an American artist who resides in northern New Jersey. Frank's educational experiences include Yale, Cooper Union, the New York School for Social Research, and the Tyler School of Fine Arts at Temple University. She has studied with George Grosz, Abraham Rattner, and Seymour Lipton. She has been making art and attracting collectors over five decades. Through her signature expressive lines and brilliant uses of color, Frank pays homage to life and its day-to-day activities. Each and every experience is subject matter for Helen. As an artist, she finds the sublime in everyday life and the extraordinary within the ordinary.