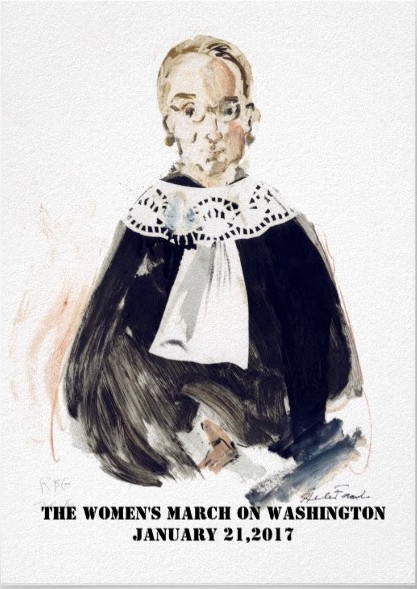 Nevertheless, She persisted.
American artist Helen Frank will be signing her first open edition poster, The 19th amendment and T-shirts designed for The Women's March on Washington, on Sunday, March 12th from 2-4 PM at Westwood Gallery, 10 Westwood Avenue in Westwood. We hope to have many representatives of women in politics, law and media in attendance. T- shirts can be ordered from this link: https://www.zazzle.com/womens_march_on_washington_t_shirt_helen_frank-235034028083065245  A limited number of XLshirts  will be available for purchase the day of the signing. The signing fee of $50 will be donated to the Women's March - https://www.crowdrise.com/womens-march-on-washington/fundraiser/womens-marchon-washington.
 Helen Frank is an American artist known for her work as a print-maker and painter. Her work appears in the collections of the NYPL, Library of Congress, MOMA, Victoria and Albert Museum, American Museum of Immigration, and many other public and private collections.  Ms. Frank was educated at Yale, Cooper Union, The New York School for Social Research, and at the Tyler School of Fine Arts. In addition to watercolor and etchings, Helen Frank is a master print-maker and artist working in copperplate etching, oil on canvas, oil and pastel on paper, ink, and collage. She is also recognized for her work and commentary on the topics of women's issues, cultural identity, daily life, travel, and sports, among many others. As an artist, she finds the sublime in everyday life and the extraordinary within the ordinary.