REQUEST AN ESTIMATE
 
Best Custom Picture Frames by Local Experts at Westwood Art Gallery in Northern New Jersey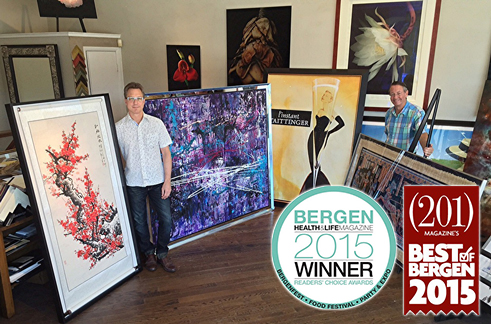 FREE QUOTES AND FRAME VISUALIZATION!

Call (201) 666-1800 or complete our request form. We will get right back to you. We offer pick-up, delivery and installation services. 
-
-
 A 3-time winner for the Best Custom Picture Framing in Bergen County by 201 Magazine readers.
We create affordable, quality custom frames for:
RECORD ALBUMS
JERSEYS
SILK SCARVES
BASEBALLS
KITCHEN ART
TAPESTRIES
CHRISTENING GOWNS
MOVIE POSTERS
VINTAGE POSTERS
DIPLOMAS
NEEDLEPOINT
WATERCOLORS
ENGRAVINGS
PAINTINGS
XEROXS
FABRICS
QUILTS
HISTORICAL DOCUMENTS
GICLEES
WEDDING GOWNS
PHOTOGRAPHY
Westwood Art Gallery is your local custom picture and photo framing expert in Northern New Jersey and Rockland County, offering affordable and high quality custom frames, rush framing orders, and many other custom framing services for paintings, keepsakes, collectibles, heirlooms, sports memorabilia, and much more. The expert staff at Westwood Gallery in Bergen County will help you design the custom picture frame of your choosing to perfectly preserve your precious items, such as military decorations, memorabilia, archival collections, photographs, posters and artwork, all behind either anti-glare glass or UV museum glass. The knowledgeable and courteous staff are experts in design, arrangement, matting and framing, each with over 30 years of experience, and our goal is to provide the highest level of service.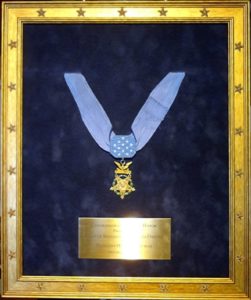 Custom-framed Congressional Medal of Honor
Westwood Art Gallery are experts in preserving military medals, honors, awards and memoriabilia.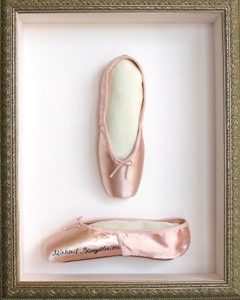 Ballet Shoes displayed in a shadowbox
These custom-framed ballet shoes are gracefully arranged and displayed in a shadowbox. Designed and beautifully preserved by the team at Westwood Art Gallery, NJ.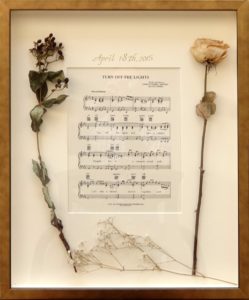 Custom Picture Framed Wedding Memories
This custom framed shadowbox is an example of beautifully preserved wedding and anniversary memorabilia. The box includes dried flowers and wedding song sheet music, skillfully arranged with an ivory custom matte and custom gold frame by Westwood Art Gallery, Westwood, NJ.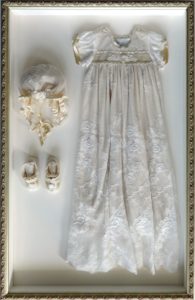 Memorabilia Shadowbox
Framing for Christenings, First Communions and Religious celebrations this custom picture frame shadowbox beautifually displays a baby's christening dress, hat and booties. Westwood Art Gallery.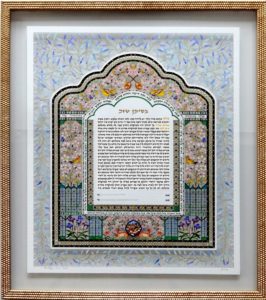 Papercut Ketubah
This Almond Blossom Ketubah is floated between two pieces of UV glass to accent the intricate work 3D nature of the design. Framed in a contemporary gold pyramid design.
Plexibox Custom Framing
Andy Warhol Campbell's Soup Dress
This Andy Warhol Campbell's Souper Dress fine art collectible is beautifully preserved and displayed in a custom crafted plexi box created at Westwood Gallery, NJ.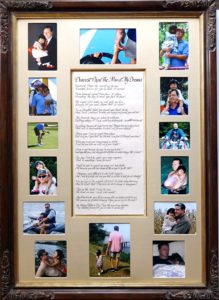 Family Photos in a Custom Picture Frame with Custom Matte
Westwood Art Gallery are your experts in designing and arranging the perfect way to display family photos and memories. This gift of family photo collage in a custom frame includes a poem hand written in calligraphy, with a wrapped linen mat and a rustic carved frame. Designed by Westwood Art Gallery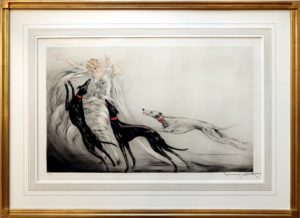 Fine Art, Original Print and Etching Custom Picture Framing
This Louis Icart art deco etching is displayed with a hand-painted french matte surrounded by a gold leaf frame, designed by Westwood Gallery, Westwood, NJ.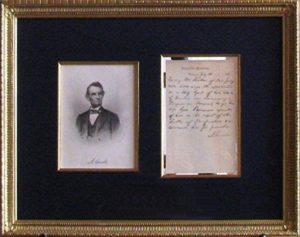 Archival framing of a Lincoln Letter in period replica frame.
This treasured President Abraham Lincoln letter is handsomely designed and encapsulated in a deep navy matting with gold fillets. A Federal period reproduction frame completes the presentation allowing for viewing both sides of the letter. An excellent example of historical document framing by the experts at Westwood Gallery, NJ.
Our expert custom framing services include:
Acrylic Face Mounting
Photographs mounted behind 1/8" or 1/4" clear acrylic using optically clear adhesive over the face of the photograph. Photos must be printed on a smooth glossy paper, not on fiber based paper.
Dibond mounting
Dibond aluminum is a superior smooth mounting surface for chromogenic prints and investment grade photographs. This archival mounting solution is perfect for large scale photographs.
Dry Mounting
permanently mounting photos or posters to a foam core board to flatten creases and prevent buckling in the frame. The process uses a heat sensitive adhesive in a dry mount press.
Linen backing
mounting thin paper prints, usually advertising or folded movie posters with wheat paste onto archival paper which has been mounted on canvas. This allows for paper restoration of missing areas and in painting of ink losses. It also prevents deterioration of the fragile paper and makes the poster sturdy for handling and framing.
Floater frames
an "L" profile frame that allows the edge and sides of the painting or print on canvas to show all around. Often used with a 1/2" space between the art and frame it provides an elegant alternative to an unframed "gallery wrap"
French mats
Traditional French mats are mats that have been embellished with pastel or watercolor panels, ink lines, or marbleized papers. They work particularly well on botanical, architectural, and art deco prints.
Plexibox frames
Custom acrylic cases for wall or tabletop. Ideal for textiles, objects, and contemporary works of art. Available with UV protection and archival materials.
Custom beveled mirrors
1/4" mirror available in clear, smoke or antique finishes in custom sizes. Choose from any of our thousands of frames and finishes and we will measure, frame and install the perfect mirror for any room in your home or office.
Frame repair and restoration
our artisans can restore and replace missing ornaments and refinish frames with the goal of saving a period frame well matched with the art.
Canvas stretching
tacking or stapling art on canvas or linen to an expandable frame or strainer. A "gallery wrap" hides all the staples on the back allowing for clean sides and hanging without framing.
Blocking and stretching of needle work
Needlepoint can often become out of square as it is worked on over a long period of time. Blocking uses a needlepoint relaxant to square up the design on a blocking board. The needlework is then stretched over an acid free board before matting and framing.
Free In Home Art Consultation
Use our expertise to help you select your Artwork and the ideal placement in your home.