The collector's edition of this fine art print photograph features the prow of New York City's iconic Flatiron building emerging from the blizzard like the bow of The Titanic plowing through the wind and the snow. Taken during the historic coastal storm "Jonas" on January 23rd, 2016 the photograph went viral during the aftermath of the storm. The resulting photograph transcends the three-day event which affected over 100 million people to become an awe inspiring vision of nature's power.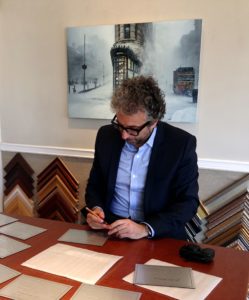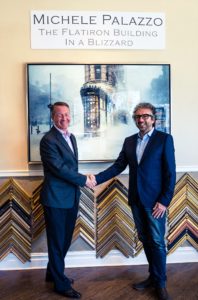 This award-winning and now famous photo of the Flatiron building is available for purchase online from the Westwood Art Gallery. Perfect for the interior design of any room, this collectible print features the high definition iconic New York City Flatiron image, permanently infused beneath the surface of the metal through dye sublimation.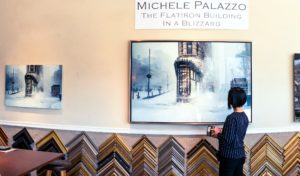 "The Flatiron Building in a Blizzard," is available for purchase online through the Westwood Art Gallery in Westwood, NJ.  The fine art print is scratch resistant and can be cleaned with a damp cloth. It arrives ready to hang with a metal floating frame on the back.  Each art print is hand signed by Photographer Michele Palazzo and numbered with an engraved certificate of authenticity permanently attached to the art. Payment is available through credit card or PayPal and domestic shipping is included.